于2018年2月3日至3月4日期间,前往任何一家参与此活动的名品奥特莱斯客服中心,出示此邀请函,即可换领新年红包,内含一张九折卡。在特别活动期间,当日消费超过300欧元/250英镑(200欧元在雅典),您还可以获赠我们为您独家定制的新春礼品*,惊喜连连!
*活动期间折扣优惠不可叠加使用。意大利奥特莱斯参加活动即送礼品。礼品仅限每人一份,数量有限,送完即止。在加拿大温哥华Vancouver奥特莱斯,您持银联卡于当日消费累计达1000加元(含税),凭收据可在客服中心领取价值50加元的银联礼品卡。
晒自拍赢欧洲双人游
特等奖(1名)
前往任意一家位于欧洲的MG名品奥特莱斯往返机票和两张价值500欧元/英镑的礼品卡
二等奖(60名)
Karl Lagerfeld定制礼品一份
晒自拍赢欧洲双人游
第一步
关注官方微博(搜索"MG名品奥特莱斯")
第二步
在所在奥特莱斯与您最爱的品牌店铺合影
第三步
分享此合影到微博并@MG名品奥特莱斯
第四步
有机会赢取以上奖项中的一项
享名品折上折及尊贵礼遇
又是一年辞旧迎新之际,为了回报您一直以来的青睐和钟爱,McArthurGlen名品奥特莱斯诚邀您前来享受我们为中国顾客独家呈现的新春购物狂欢季。无论是为了犒劳一年来辛勤工作的自己还是为心爱的家人朋友准备礼物,请一定不要错过这最佳购物扫货时机!McArthurGlen名品奥特莱斯更是您欧洲之旅不可缺少的目的地!
于2018年2月3日至3月4日期间,前往Berlin名品奥特莱斯客服中心,出示此邀请函,即可换领新年红包,内含一张九折卡。在特别活动期间,当日消费超过300欧元,您还可以获赠我们为您独家定制的新春礼品*,惊喜连连!
*活动期间折扣优惠不可叠加使用。礼品仅限每人一份,数量有限,送完即止。
来柏林Designer奥特莱斯享狗年新春贺岁超值礼遇 大家一起旺旺旺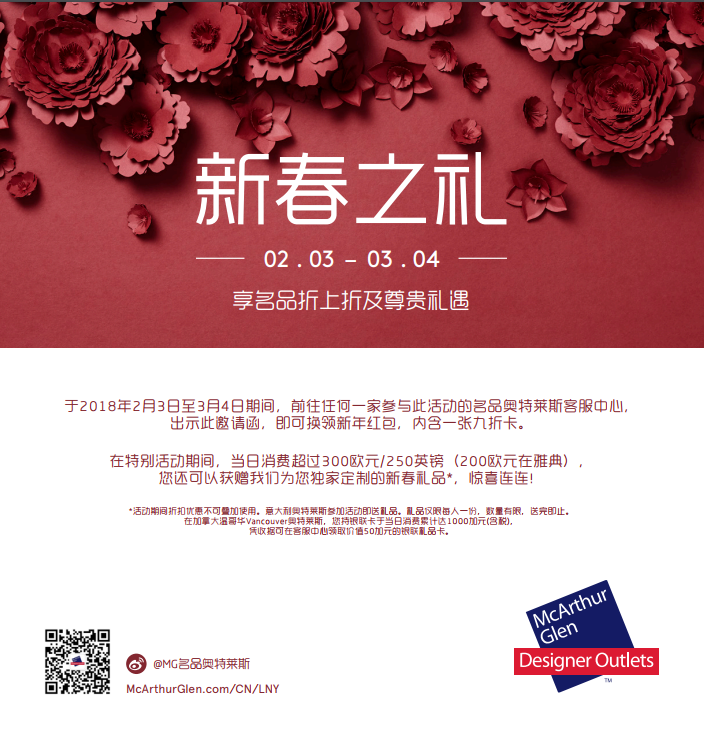 McArthurGlen is the main owner, developer and manager of European designer brands. Its 26 designer outlet stores are close to Europe's most popular tourist destinations and feature a wide range of luxury designer, high-end and lifestyle brands including Boss, Burberry, Escada, Nike, Adidas, Michael Kors, Gucci or Prada , 30-70% off* The McArthurGlen Designer Outlet is a must-visit destination for the fashion-conscious traveler. Tourists from outside the EU can get even more savings with duty-free shopping. For more information visit www.mcarthurglen.com/outlets
McArthurGlen Designer Outlet Berlin – pure shopping pleasure!
Berlin is one of the coolest, trendiest and most exciting cities in Europe. The Berlin Designer Outlet adds to the dynamism. Over 85 stores offer unrivaled discounts on more than 100 brands, from designer labels, jewelry, and accessories to elegant loungewear and trendy activewear. In addition to designer brands, various services – such as personal style consultants at the Berlin Designer Outlet – invite shoppers to stroll through the centre. Numerous restaurants and a unique Panda Kids Club with qualified staff provide a relaxing shopping experience for the whole family.
You will find the Berlin Designer Outlet just off the B5 motorway at the junction of the Berlin ring road, just a 30-minute drive from central Berlin.